All compatible devices such as awnings, pergolas or shutters are connected to one of the control systems - TaHoma® or Connexoon. You can then easily control individual elements of your home from lighting and shading to the garage door, entrance gate or pleasant music on the terrace with only one touch on your smartphone or with the help of a remote control.
Or you don´t have to take care of anything - let the scenarios you create in advance work! For example, in the evening, all the shutters in your house close down to protect you from outside viewing, and in the morning, they will pull out again so that you can be awakened by the sunlight.
Advantages of automated shading

Continuous shading control via remote control or smartphone
Scenarios that "think on their own" and automatically control shading
Solar and wind sensors for thermal comfort inside and protection of the awning
You can easily connect all shading elements in the Connexoon Window application
Possibility of connection with a number of other household elements using the TaHoma® system
Home automation from Somfy

Our partner, Somfy, offers a complete range of motors for all types of shading from outdoor and indoor blinds and shutters, curtains and drapes to terrace awnings and pergolas. You get even more by connecting your smart home with TaHoma® or Connexoon systems.
TaHoma® system

TaHoma® is a comprehensive home automation system. Thanks to your smartphone, you will literally have all the indoor and outdoor shading of your home, as well as lighting, heating, alarm or entrance gate and garage door under your thumb / in your hands. You can control or monitor everything wirelessly from practically anywhere.
You can also easily synchronize blinds and heating to save on heat. During the sunshine in the winter, the blinds can open on their own to make your home warm from the outside. The heating switches off at the same time. In bad weather, the blinds are closed again to prevent heat loss, and the heating is switched on again.
Treat yourself to comfort and safety. If the system detects a fire or burglary threat, it immediately notifies you so that you can respond. You don´t have to worry about what´s going on in your home when you´re not there. The TaHoma® system can even simulate your presence in the house - according to pre-set scenarios, it will trigger steps that will make uninvited guests from the outside think that there is movement in the house. For example, it closes or opens the shading or turns on the lights.
Connexoon system

Do you want to control only the shading? Then choose Connexoon Window, the application for your smartphone. You can easily control all your blinds, shutters, awnings as well as curtains and drapes from anywhere, or set up scenarios for individual parts of the day.
The Connexoon system works on the principle of three applications for your smartphone, each of which takes care of a different part of your home - one for shading, another one for doors and gate, and the third one for a pleasant atmosphere on the terrace. It is then a perfect choice when you are just starting out with home automation or you want to control, for example, only shading. You can choose from any combination of two applications.
Connexoon also allows you to create a variety of scenarios. For individual parts of the day, you can have your blinds, shutters and awnings in the exact desired position without having to think about it.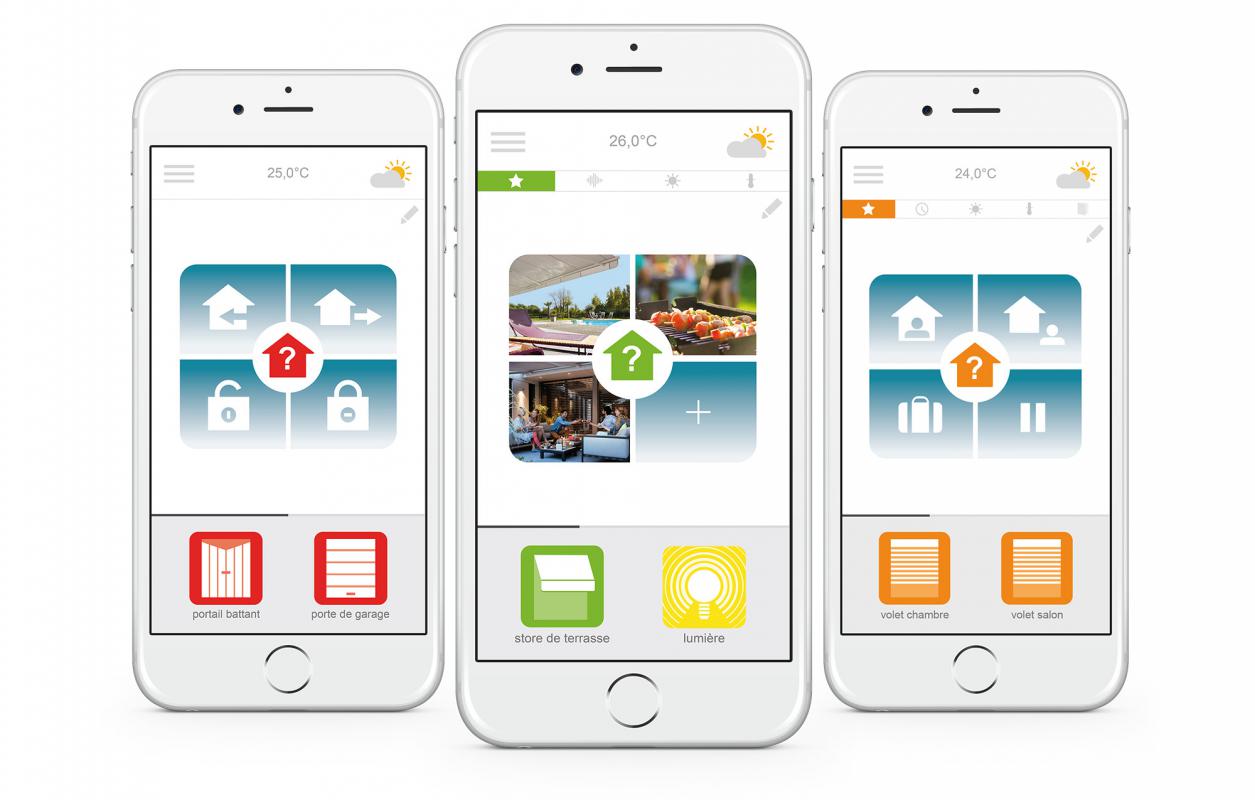 Meet - Somfy

For   more than 50 years, Somfy has been helping to simplify the daily lives of millions of people around the world. After all, it operates in 58 countries. It creates new reliable and sustainable solutions and invents new innovations every day for the homes of the future.
Are you interested in controlling shading in your home? With Somfy you can get much more! Your smart home can also control cameras, alarms or heating. Everything you want to know about home automation can be found on the Somfy website.